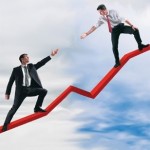 Recently I was reviewing a 2013 survey published by Robert Half that clearly highlighted the disconnect between the investment in soft skill training and the demand for those skills in management.  CFOs reported that poor interpersonal skills, those are soft skills, were the top reason for lack of advancement from within their firm.  Here are some outstanding results from this survey:
"In your opinion, which one of the following is the most common reason for an employee's failure to advance at your company?"
30% – Poor interpersonal skills
25% – Poor work ethic
23% – Not developing new skills
15% – Failure to enhance his/her visibility within the organization
5% – Failure to proactively see promotions and career advancement
2% – Other
Yet of these same CFOs only 19% say they would invest in soft skills training. The very reasons their staff is not ready for executive promotion, the communication and interpersonal skills that hold an employee back, are not being trained in a vast majority of firms.
To be fair, soft skills training has increased in the last 5 or so years, but that isn't enough. Firms that want to promote from within must look at helping their staff develop both accounting/finance skills and interpersonal skills. Churning through employees and hiring top executives from the outside are demoralizing and expensive. Invest in training now or invest in recruiting new staff later. It's that simple.
CFOs were asked, "In your opinion, which one of the following is the most common reason for an employee's failure to advance at your company?" Their responses:
| | |
| --- | --- |
| Poor interpersonal skills | 30% |
| Poor work ethic | 25% |
| Not developing new skills | 23% |
| Failure to enhance his or her visibility within the organization | 15% |
| Failure to proactively seek promotions and career advancement | 5% |
| None of these | 1% |
| Don't know/no answer | 2% |
– See more at: http://accountemps.rhi.mediaroom.com/2013-06-19-Survey-Few-CFOs-Plan-to-Invest-in-Interpersonal-Skills-Development-for-Their-Teams#sthash.Fe1ROGx0.dpuf
CFOs were asked, "In your opinion, which one of the following is the most common reason for an employee's failure to advance at your company?" Their responses:
| | |
| --- | --- |
| Poor interpersonal skills | 30% |
| Poor work ethic | 25% |
| Not developing new skills | 23% |
| Failure to enhance his or her visibility within the organization | 15% |
| Failure to proactively seek promotions and career advancement | 5% |
| None of these | 1% |
| Don't know/no answer | 2% |
– See more at: http://accountemps.rhi.mediaroom.com/2013-06-19-Survey-Few-CFOs-Plan-to-Invest-in-Interpersonal-Skills-Development-for-Their-Teams#sthash.Fe1ROGx0.dpuf