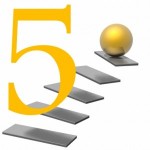 The new revenue recognition standard has been issued by FASB.  This model is a principles-based approach which will require more judgment to determine the amount of revenue to recognize and when to recognize.
Earlier this year I wrote an article, How The New 5-Step Revenue Recognition Model Impacts Your Organization, outlining each step businesses will use to determine the correct revenue recognition method.
For publicly held entities, the standard is effective on or after 12/15/16 and privately held one year later. For more addtional information read this article from the Journal of Accountancy.