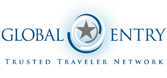 If you who travel a lot, like I do, you're probably tired of standing in long TSA lines. The Global Entry Trusted Traveler program may be just the help you need. This must-have for weary travelers has two main benefits: you are automatically enrolled in the TSA pre-check, and you receive expedited customs processing.  I looked into this and want to share what I learned.
The first step is submitting an online application Once your application has been conditionally approved (pending a thorough background check) you must schedule a one-on-one interview at one of 40 U.S. Customs and border protection offices in the United States.
This interview process takes less than 15 minutes and you're required to answer a few questions, be photographed and have your fingerprints taken. Once this has been completed and approved you are given a known traveler number that you input into your profile at the airlines that you travel with and when you make your next reservation you are automatically  given TSA pre-check status.
The cost of this program is $100. Some of you may be wondering what's the difference between the Global Entry program and TSA pre-check program.  The TSA pre-check program only cost $75, however, currently the only application site is in Indianapolis (future locations in New York, Washington DC, and Los Angeles are being considered).
For me the extra 25 bucks was well worth the expedited processing, and I'm glad to be part of the Global Entry Trusted Traveler network.
Less time in lines. It's a good thing!