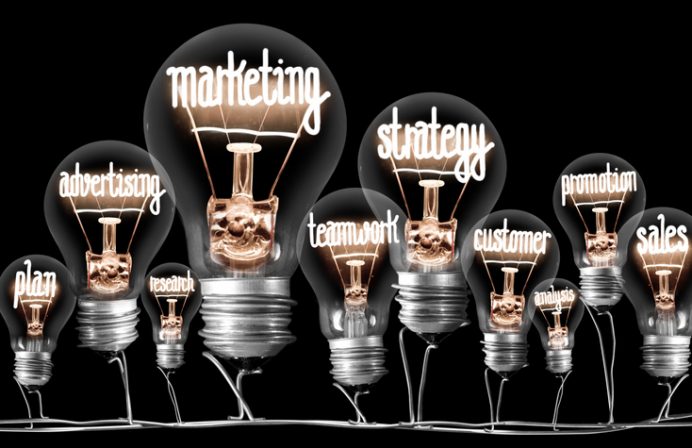 Thinking like a marketer can be difficult when most of us — well, think like accountants. Marketing isn't a space in our brains; we use that often. Sometimes it's because we don't want to, or don't feel like we need to. Other times, it's because we don't even know where to start.
Luckily, I had a guest on the podcast who's expertise is in just that. Kate Colbert is the author of "Think Like a Marketer: How a Shift in Mindset Can Change Everything for Your Business," as well as the owner of Silver Tree Communications, a full-service marketing company.
Kate has (thankfully) broken down how to think like a marketer into five simple steps — which we can all apply to our businesses. Without further ado, because, as Kate says, "the perfect time to start thinking like a marketer is now":
1. Communicate for connection and meaning, not just to transact sales.
Communication should be the top priority for anybody doing business, whether you're in the accounting world, retail, restaurants, or publishing. Communication is about adding meaning and value to potential customers – not just trying to snag a check from them.
For example, most people only hear from their accountant around — you guessed it — tax season. They get a simple email reminding them to make their appointment, and maybe a follow-up or two. However, outside of that season, customers typically aren't getting much year-round value from their accounting firm. Also, it doesn't have to be that way. Blogs, podcasts, and newsletters are all great ways to engage your clients (present or future ones) and add meaning to your relationship, without asking them for a sale of some kind.
When a change in the tax code occurs, accountants need to reach out to their clients who will be impacted by this change. For example, "There is a change in the tax code, and I would like to have a conversation on its potential impact on your business. Can we meet for cup of coffee to discuss?"
"The accounting professionals who are finding ways to create meaningful conversations are the ones that are creating sustainable businesses for the long haul," she said. "And (they're) capturing a lot more value to the bottom line because they can raise their prices because they're [bringing more value to their clients]."
2. Live and die by your client's insights.
Are you paying attention to what your clients are saying? What they like and dislike, what they want to see more or less? If not, you're leaving tremendous marketing opportunities on the table.
"What's interesting to me about financial professionals is that, here's a group of subject matter experts who are all about the data, right?" Kate said.
However, how many accounting firms are invested in the data of what their customers think? What's your net promoter score? How is it trending?
Give a survey, or set up a focus group — you glean your information is up to you. Make this a priority in your marketing strategy. Otherwise, you're not going to know where to go.
"Once you have those clients insights, you know what pivots to make in your firm to be able to grow," Kate said.
3. Market in a way that's strategy-religious and tactic-agnostic.
So many companies — accounting and otherwise — take the opposite approach than this. They're all over the place with their strategy, but married to one tactic, just because they think that's what the rest of the industry is doing.
The trick is in the opposite approach: Be married to your strategy (once you do the front-end work to come up with a robust one). Try a little bit of everything when it comes to the tactics — aka the vehicles by which you deliver your strategy.
Maybe the tactic is a video series, a workshop, a television commercial, or a newsletter series. Perhaps it's a combination of all of the above. However, the trick is to experiment with a variety of approaches and see how best to deliver your strategy. Where are you seeing the most engagement, or the most leads coming from where? Pay attention to the numbers, and start devoting resources to the tactics that are producing results (and pulling resources from tactics that don't).
"It's about being willing to try new things," Kate said. "And then walk away from new things."
4. Create cultures and processes that align with your brand.
If your firm has a brand associated with never surprise-invoicing people, then you should, as a firm, build billing processes and packages around that core value. According to Kate, structure your pricing in a way that there's some cushion. Just in case people call and ask for further advice, you don't feel like you're giving it away for free.
Also, if you have a brand focused on being accessible and comfortable, and not nickel-and-diming the client, then build a culture surrounding that. An example Kate used is Southwest Airlines. This is an airline that's built its brand around never being late, and not putting more costs on the customers' shoulders. When a Southwest plane lands, all the crew going around and cleaning so that the aircraft can be used again for its next flight on time. Southwest built a culture in its employees around its "never late" branding, and that shines through in their marketing.
"What are we willing to do differently to deliver on the story that we're telling the marketplace about what makes you a better accounting firm than the accounting firm down the street?" Kate asked.
5. Do everything in service of maintaining a virtuous cycle of creating value for the client while capturing value for you.
This last marketing value is related in a way to the first: It's all about creating value. Kate states, "that might mean giving things away for free. If giving something away for free is going to land you even more business eventually, then it's a good cycle to get into."
"It's about can you create value for people, not just upfront when you're trying to win them, but continuously, how do you keep creating value?" Kate said. "But how do you capture it back? We're all in business to stay in business. So it's not about giving it all away for selling it for too cheap. It's really about figuring out how do you make sure that you're pricing yourself right."
Much of this value comes back to the concept of "delighting." How do you not just serve your clients, but delight them? Whether that's the atmosphere, you create within the office, the gift that you give a new client, or that phone call informing the client of a tax law change. How do you delight your client enough to where they not only want to keep coming back, but they also want to bring you quality referrals?
Strategically doing this — in a way that eventually brings money back to your bottom line — is how to create a winning marketing strategy (and business).
"You can't create more value for your clients, or future clients, or associates, or whomever you serve if you're not capturing money back to the bottom line," Kate said. "If you're constantly working your marketing, your business is going to be around as long as you want it to be. Then you can retire and go buy a yacht."
Click here to listen to the entire interview