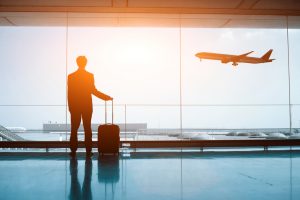 Whether you are a road warrior, like myself, or just the casual traveler, you know how hectic traveling can be.  There are some travel apps available to help reduce the stress of traveling. Here are my top three must have apps.
TripIt:

This has been my favorite for the past couple of years because it keeps me organized on my flights, hotels, rental cars, etc.  And it is so easy to use.  Just link your email to TripIt, and it will automatically import your travel plans into your master itinerary, so everything is in one place.  Or you can go "old school" and forward your itinerary to plans@tripit.com to build your itinerary.  Tripit is viewed on all mobile devices and your desktop.  You can share your itinerary with anyone, and it will synchronize with your calendar.  You can upgrade to the pro version for $49/ year, and that gets you some cool features.  You will receive real-time alerts on delays, cancellations or gate changes.  It also helps you find alternative flights should your flight get delayed or canceled.  There is a seat tracker and points tracker feature.  TripIt also tracks the number of days and miles traveled for that year and in total.  For example, as of this writing, I have taken 31 trips, traveled 112 days, over 36,500 miles, been to 44 cities and two countries.  

Uber:

Why would anyone take a cab when you can Uber?  It costs half the price of a traditional cab, and you don't have to worry about payment because they charge your credit card and include the tip.  The cars are clean, and there is no sign that says, "Vomit in the cab – $50", gotta love Chicago cabs."  I have never met an Uber driver that doesn't like their job.  Many have quit their full-time job to drive for Uber.  More and more cities are allowing Uber to pick up from their airport. However, there are still a few like Boston and Orlando that don't. Before any trip I Google "[city and state] Uber pick up at airport" to see if they allow it.

Waze:

 I remember taking those long family trips and using AAA's Triptik.  I missed it a little but got over it when I started using Waze. This GPS app is free and in real time because it uses crowdsourcing to help detect the police, accidents, traffic jams, etc.  When Waze users get stuck in a major traffic jam they send an alert and depending on your location; the app will try to find you an alternative route.  The first time this happened to me, I did not trust Waze and instead of listening, I was stuck in a major traffic jam that lasted two hours.  A cool feature is you can change the Waze voice to either a male or female with different accents or languages or even to Tyler Perry's voice from the movie Boo! A Madea Halloween.  What a fun marketing angle.  
These three apps have made my travel life a bit less stressful, and every little bit goes a long way.  Please leave a comment on your favorite travel app, and I will compile them and add them to a new blog posting or turn them into a new podcast episode.  You can find my podcast on my website at http://petermargaritis.com/category/podcasts/ or download them on iTunes, Stitcher or Google Play