Peter Margaritis,
Chief "Edutainment Officer"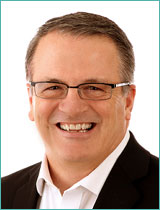 Going from being a CPA to taking the "numb out of numbers" for thousands of other accountants is definitely the road less traveled, but that is exactly the path Peter chose.
Accounting was never the career Peter envisioned for himself at 17 – standup comedy was going to be his ticket. However, based on his father's advise – "Don't be a funny guy, Pete. Be a CPA, you'll never be hungry." – and a knack for numbers, Peter earned his Master's in Accountancy and then his CPA license. He worked in key positions in several large organizations, and did very well. But accounting really wasn't his passion. He was, in fact, The Accidental Accountant.
During his time as a corporate CPA, Peter took improv classes and performed stand-up comedy. Communicating directly with audiences was life changing, and Peter discovered his true passion: Teaching what he knew rather than being a practicing CPA. That led him to university faculty positions where Peter combined his accounting skills with his improv performance skills. He realized his students not only learned more when they were entertained and engaged, they retained that knowledge and could apply it in new situations. It was an epiphany.
"Applied improv is all about the ability to draw upon your experience, knowledge and education to apply them in a way that meets the needs of the person you are taking to or working with – and it can be taught."
Peter decided to apply the lessons learned in his classrooms to help others in the accounting profession. Accountants face many inflexible situations filled with details, laws, rules and deadlines. Improv is very fluid, a concept that can be difficult to grasp without guidance and support. Peter helps bring the principles of improv to accountants who want to become more effective communicators and leaders. Yes, and he makes them laugh, learn and grow.
Through his keynote presentations and customized workshops, Peter shows how the tools used in improv – like listening, flexibility and trust – can change how a team interacts with each other and their clients. Bottom line, Peter can help your team learn new methods to improve their communication and build stronger relationships with your clients, customers, stakeholders and associates.