Peter Margaritis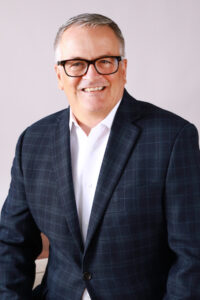 During one of Peter's performance reviews, his boss said, "How in the heck did you ever become a CPA? CPAs can dig deep into the details, and you skim the surface. Peter, you are an 'accidental accountant.'" She was right.
Many of us are "accidental somethings" (you fill in the blank — accidental accountant, accidental engineer, accidental lawyer, accidental marketer, etc.). The world is full of people whose driving passion is not related to their title, credentials, or primary job responsibilities. They have found themselves in careers and lives accidentally or erroneously.
For Peter Margaritis, his passion is simple; he loves to make people laugh and he's felt that way for as far back as he can remember. That love to make people laugh took him down the path of performing stand-up comedy. It was an incredible learning journey for him, and he learned that the stand-up lifestyle wasn't something he wanted to pursue long-term.
Then came the life-changing discovery of improv comedy. It changed Peter Margaritis into the improv leader he is today.
Improv was mind-blowing for Peter not because of the humor aspects. It was because the teachings of improv aligned so strongly with the development of leadership skills.
This discovery — that leadership and improv go hand in hand — came later in Peter's career, after he had worked for organizations like Barnett Bank and Citizens and Southern National Bank as a consumer and commercial lender and after he had graduated from Case Western Reserve University with a master's in accountancy. This discovery of improv occurred during the years when Peter worked at Price Waterhouse, Victoria's Secret Catalogue (not as a model!), and Gap Inc. Direct.
When Peter left the corporate world for academia — teaching accounting at Franklin University and Ohio Dominican University — the three worlds collided: business, stand-up, and improv. In front of a classroom, Peter's passion reached nirvana. He was able to draw upon his accounting knowledge and deliver it engagingly and humorously. You heard that right — Peter used humor to teach accounting, and the students loved it.
Here is the epiphany: the students could retain the accounting knowledge and apply it to their accounting foundation because improv works differently from lecture or even regular discussion. Improv is about the ability to draw upon your experiences, knowledge, and education then apply your experiences, knowledge, and education in a way that meets the needs of the other people you are working with. Improv is teachable!
Peter Margaritis has a passion for making people laugh, helping them to see content in a different light, and inviting them to gain a better understanding of the application of the concepts taught. Along the way, he loves to see people laugh and have fun! In the workplace, this formula increases employee productivity because, simply put, people work better when they enjoy working in a fun environment.
In his career, Peter has held several leadership roles — the most prominent role as Chairman of the Ohio Society of CPAs Executive Board.
"Leadership has always been important to me," Peter explains. "And improv has accelerated that importance. I am a younger Baby Boomer whose corporate life involved being told what to do by senior leaders who looked at others in the organization as a number — not a person — who could easily be replaced. This mentality is what I refer to as 'ego leadership,' and it is wrong in so many ways."
Peter Margaritis is a strong proponent for the argument that "we are all in the people business" and that the sooner we accept that mindset, our organizations will prosper greater than we ever imagined. People are our greatest assets, and we need to start treating them that way. Off Script helps leaders do precisely that — master the art of business improv to achieve measurable, sustainable organizational results.
Through his keynote presentations and customized workshops, Peter demonstrates the tools used in improv — listening to understand, being present, adaptability, and "Yes! And." These tools can change how a team interacts with each other and with their clients/customers. Peter helps team learn new methods to improve their communication and build stronger relationships with clients, customers, stakeholders, and associates. His programs and methods also help organizations reduce turnover while increasing productivity and profitability.
Off Script is Peter's third book.