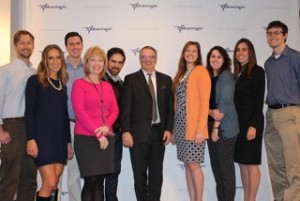 I am very happy to announce that my first book is nearly finished, and we are looking at an April 2015 release! The title isn't solidified yet but the theme of the book is how business leaders can use improvisation to create positive outcomes.
Last week I spent time in Charleston with the Advantage Media Group, who is publishing my book. There is a lot that goes into writing, publishing and marketing a book.  Just to give you an idea of the scope of this project, my time at Advantage Media was shared with:
Harper Tucker, Chief Sales Officer – welcome and tour
George Stevens senior graphics designer discussing the front cover design
Scott Neville Editorial Manager and Nate Best, Editor working on the copy for the back cover and discussing various book titles
John Witty, CFO – we discussed a wide variety of topics from The Advantage Media philosophy to the Civil War
Allison Looney, Client Marketing Associate discussing ways to market my book.
I also spent an hour recording my book trailer which will be reduced to about three minutes.   What a great experience!  Look for more "behind the scenes" action and updates on the book title and release.