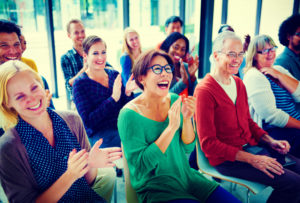 Humor has a place in most presentations: connecting through laughter is one of the best ways to engage an audience. Humor keeps us focused on the speaker and topic, and creates a shared experience for the audience. The goal of a speaker is to deliver information in a way the audience can accept and retain so they can later act on the speaker's advice.
One of my favorite quotes about using humor in a presentation is from Jeffrey Gitomer who said, "The end of laughter is followed by the height of listening." Think about your own experiences. Maybe you connected with a teacher who made learning fun and challenging, or a mentor who used humor to help reduce tension. The way you felt then is how you want your audience to feel.
There are people who believe they are not a funny person. That's fine because I am not suggesting you develop a stand up comedy routine. Adding humor to your presentation can be taught. Start with baby steps. No one gets their first driver's license driving a Ferrari. I have a 16 year old – believe me, something bad is bound to happen! Take those driving baby steps with a Ford Escort instead.
Adding humor to a presentation is a learning process, and I have three tips to share with you.
Tip # 1: Don't tell jokes. Do use self-deprecating humor.
You never want to tell an outward joke in your presentation because it could be offensive to someone in the audience. You can, however, poke fun at yourself. My last name, Margaritis, gets commented on every time I introduce myself. So I use that to make fun at my own expense when I start a presentation by saying, "my name is pronounced like a cocktail but spelled like an inflammation." It always gets a laugh and helps to set the mood in the room. Word of caution: find the funny about you without going overboard because that can hurt your credibility.
Tip #2: Use a funny picture or movie to get your point across.
Begin by telling the story (setup) first to get the audience's attention and then show to photo or movie, for a laugh. For example, I was presenting on the sexy and exciting topic of the new lessee accounting rules, and used a video to make my point and create laughs. I said, "the lessee will have to record the leased asset and the lease liability which now creates a highly leveraged balance sheet." To illustrate a rather dry point, I showed a movie I made using the app Action Movie.
I had filmed a tiki hut while on vacation in Rivera Maya and added the special effect of a boulder crashing down on the tiki hut. When the video played, I said the tiki hut was the company's balance sheet, the boulder was the new leasing standard, and you just witnessed your balance sheet being crushed.
For those of you reading this who are not accountants, sorry for the accounting reference. My point is virtually everything, even accounting, can be made funny and memorable with a picture or movie.
Tip #3: Remember the Rule of 3's
According to the world-renowned source for everything, Wikipedia, the rule of three "is a writing principle that suggests that things that come in threes are funnier, more satisfying, or more effective than other numbers of things." Three Musketeers, Three Little Pigs, Three Times a Lady, Three Blind Mice, and joke structure.
Classic joke structure is premise, punchline, and tag but this can be difficult to master. Another form of joke structure that you can use is to set up a pattern – truth, truth, and misdirection. For example, "Thank you for the invitation to speak at your conference. I am looking forward to exploring your beautiful city (truth), getting to meet as many of you after my presentation (truth), and having lunch with plenty of chicken (misdirection)."
Observing how others incorporate humor into their presentations is a great way to learn from some of the best. One of the most popular TED Talks, with over 45 million views, was given by Sir Ken Robinson, an expert on creativity in education. In his talk, Do Schools Kill Creativity?, he masterfully connects with his audience by incorporating a snippet of humor every three minutes or so, an achievement that beats the laugh moments in many highly rated comedies. Watch Sir Robinson use humor to deliver his powerful message while keeping his audience actively engaged.
Now it's your turn to find a way to add humor to your next presentation!
Learn more about becoming a better speaker. Subscribe to my monthly newsletter at http://petermargaritis.com/subscribe, and listen to episodes of my podcast, Improv Is No Joke, available at www.petermargaritis.com, on iTunes, Google Play, and Stitcher.