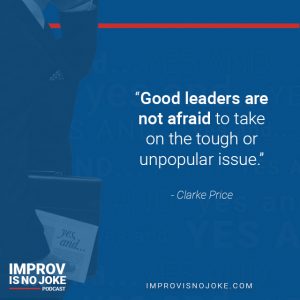 Happy New Year!  I hope everyone had a wonderful holiday season and ready to begin the 2017 journey.  This week's blog posting is from the show notes to the very first episode of my podcast, Improv Is No Joke with my guest Clarke Price, the retired CEO of the Ohio Society of CPAs.  Our conversation is about leadership in not-for-profits.  If you would like to listen to the entire episode, you can click here, or you can download the episode on iTunes, Stitcher or Google Play.  Here are the show notes:
It was great having my longtime friend and mentor, Clarke Price, on the show with me today. He's retired now, but he led The Ohio Society of CPAs for 40 years and had been a not-for-profit volunteer and leader during much of that time. He's developed great leadership skills and influence in the not-for-profit world, and he shares much of what he's learned with us today.
In the not-for-profit world, leadership can be quite different than in the corporate world. Great leaders spend a lot of time building a consensus and support among the organization for the direction they want the organization to take. It's not enough to just have a vision and say, "This is where we're going. Great leaders have the ability to explain that their path is the right thing to do.
This takes the power of persuasion and the willingness to tackle hard conversations with your people. You must have the ability discuss the unknowns, but to be able to convince supporters that they have the capacity to succeed in new endeavors.
This, of course, makes relationship building a critical piece of running a not-for-profit. People have to know, see and trust you. It's easier if they like you, but that's not always the case. Leaders can't be effective if their focus is on "How do I get everybody to like me?" You must have the courage of your convictions and be willing to go full-bore once a decision is made.
As a true leader, you're going to develop a vision for where you want the organization to go, but within every not-for-profit, your vision may conflict with the views of others within. "Good leaders are not afraid to take on the tough or unpopular issue." This is where the relationships you develop begin to pay off. The ability to address these issues and to be heard by your people is part and parcel of being an effective leader.
Part of leadership is the innovation of ideas and implementing them within the organization. There's "idea leadership" where the leader decides on the direction of the organization or products it will develop. The corollary to this is where ideas come from within the organization. To get this type of idea creation, the leader needs to create a place where he empowers his people to bring forth their ideas. The great leader supports a culture where people feel free to express ideas about what the organization should do or stop doing. You know this is the case when your people have faith that you will support them or at least listen to what they have to say and know you will give it serious consideration.
One concern that Clarke has with the world today is the trend toward timidity of leadership. This is when an organization avoids controversy at all costs. They allow questions like, "Who will this offend?" and "What's the media reaction going to be?" drive their leadership decisions. It's better to ask questions like, "Does this make sense for the organization?" and "Will we be stronger or more profitable as a result?" These questions lead the organization on the right path.
This was an incredibly informative and valuable conversation with a great leader. I'm very appreciative of the time that Clarke granted me for this interview, and I can't thank him enough.
Remember to sign up for the YES AND Challenge by visiting my website www.petermargaritis.com and scrolling down to the YES AND Challenge call to action box and click to sign up.