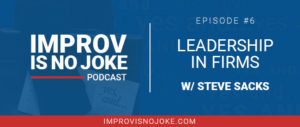 Steve Sacks is a right-brain thinker in the left-brain world of accounting. I first met him when he attended one of my workshops in Las Vegas, and since then we've had many spirited discussions centered around leadership and communications. It's great that we're able to continue our conversation here for the audience.
Steve's always been more enamored with what happened to generate the numbers in accounting rather than the numbers themselves. To him, a financial statement a few months after the fact doesn't add any value, and because of this he got into consulting. Through consulting, he can offer real help to his clients in the form of advice or direct action steps that need to be taken.
He's looking to differentiate himself from other consultants in the field. He wants to go from just offering advice and a report to helping the client implement and get to the next level. "Identifying problems is not enough."
Steve believes that the accounting profession is really a relationship building profession. When you meet with a prospective client you want them to leave the meeting knowing that you care and want to be a partner in their success. You can only do this by listening and asking great questions. You've got two ears after all, so you should be listening twice as much as speaking. Ask a question, listen to the answer then deliver on what the client wants. That's what builds great relationships.
In all accounting firms now and in the future, we'll be relying on the next generation of associates to help build the business. It makes sense to bring the younger, newer staff into meetings to learn from the conversations of the more experienced partners. "You gotta bring up the next generation sooner rather than later." They should pay attention to the questions asked and the way the clients react.
Steve also believes it's of extreme importance to foster in the younger generation an intellectual investment in the firm. Our management styles need to change to be more collaborative in our efforts, actually working with our new associates to create a more interesting and imaginative workplace. The younger generation doesn't take too well to the rigidity of the old ways.
This also has the effect of developing the company's culture. We need to walk the walk and talk the talk, and being in-step with our nice and inviting marketing collateral. "Culture will be the determining factor whether you've created a home for that future star or not." It used to be that job jumping made for a toxic employee, but now we've got to expect it and do everything we can to get them to stay.
Hiring practices need to be improved as well, and interviewing has become a lost art. It's important to get the right people on board, as well as on-board them properly to the company. Steve recommends that every new associate be assigned to a mentor within the firm, and be given a career roadmap right from the start. Also, skip the yearly formal reviews as this should be an ongoing process throughout the year.
Steve gave us many of his insights into the future of leadership with accounting firms. There's so much that he discussed that we all should be trying to implement. My thanks again to Steve for the time that he gave us today. If you would like to listen to his episode, click here