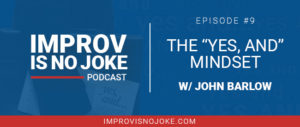 I'm very happy to introduce my friend John Barlow today. He is a brilliant thinker, an empathetic automotive engineer and a masterful practitioner of the "Yes, and," mindset.
John is an accidental engineer. He started his career as a principle engineer at Honda 22 years ago, while pursuing a career as an acoustic engineer. He doesn't exactly fit the stereotype of an engineer, and he brings an empathetic perspective to the engineering and design process. "I think you can train your brain to use both sides of the brain simultaneously, but if you try to do two tasks with one side at the same time, I don't know it works so well."
John shares the different aspects of his unique perspective on engineering:
Have a wider viewpoint – Learn the different ways people want to use a vehicle (or any product), even if they can't tell you how they want to use it
Be empathetic to other people – Be empathetic to how people do things, use things and want to use things.
John has tactics for imparting empathic processes upon his fellow engineers: Build a logical storyboard and try to show a trend. Try to imagine the future by considering the past – some things that sound unrealistic might happen
John's position involves imagining how people will use products and technology in the future. Part of this is attempting to establish the relationship between human and machines, because the more of a relationship you can build there, the more trust there is in the technology. "As technology is starting to provide services to people, you don't want it to come across as a machine. You want it to be more personal than that."
"Because people are so busy with their lives these days, I think part of that forces the, 'Yes, but,' culture." John sees how the mindset can impact every part of your life and the people you are around. However, if you can take a step back and look at things from a different perspective, you will realize that it is more effective, and more empathetic, to use a "Yes, and," approach.
I'm extremely grateful to John for taking the time to talk today. He is one of the most empathetic people I have ever talked to, and he really understands the benefit of a "Yes, and," mindset. I can't wait to have him back on the show again.
Click here to listen to the episode