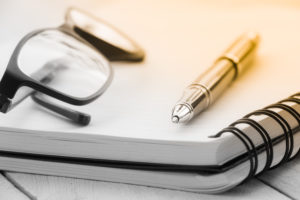 In 2015, I took an online sketch comedy writing course from Second City. I was looking for ways to become a better writer, and I learned a lot from this course. What I learned was developing characters to help build the emotional attachment with the audience. When writing, we need to create the emotional attachment with our reader to they will continue reading. I still have a long way to go, but this course helped me to keep this concept in the forefront of my mind. I hope you enjoy.
Cast
Pete – 40's.
Mr. IRS Agent – 50's
(Scene: conference room at CPA firm)
PETE
Welcome Mr. IRS Agent.  It is good to finally meet you after all of these years.
MR. IRS AGENT
Same here and thanks for agreeing to meet at your office.
PETE
Please excuse my attire but it is "let's dress crazy day" here at our firm.
MR. IRS AGENT
Not one bit!  You might be the only person to pull off wearing an orange sport coat, white dress shirt, purple bow tie, white dress slacks and black Chuck Taylor shoes. Either way, lets get started.
PETE
I will take that as a compliment.  Ready to get down to work Mr. IRS Agent or would you like a tour of our office.
MR. IRS AGENT
Let's get to work.
PETE
Would you like something to drink?  We have coffee, espresso, or water.
MR. IRS AGENT
A glass of room temperature water would be fine.
PETE
Would you like some ice with your water?
MR. IRS AGENT
No, ice water.
PETE
One glass of ice water coming up.
MR. IRS AGENT
Pete, sorry for the confusion. I would like a glass of room temperature water, not a glass of ice water.
PETE
Oh! Okay, coming right up.
Here you go.
MR. IRS AGENT
Thank you.  Are you ready to start?
 PETE
Yes Mr. IRS Agent! What questions do you want to ask?
MR. IRS AGENT
Your client is claiming $515,732 in airfare expenses for 2013 but in 2012 they claimed only 32,869.  Can you explain this?
PETE
Hey Bill!  How are you today and thanks for dinner last night.  Mr. IRS Agent, have you ever been to Delmonico's restaurant?  Bill and I went last night for dinner and the steaks were outstanding…
MR. IRS AGENT
No, I am a vegetarian. Let's get back to my question.
PETE
Before we start back, I have a question for you. Why did you want to come down and meet at our offices?
MR. IRS AGENT
The reason is that I am finding our conference calls have not been productive these last couple of years. And…
PETE
And what?
MR. IRS AGENT
And I am considering leaving the IRS, moving to Los Angeles, chasing my dream of being a stand-up comic and I wanted to meet you face-to-face.
PETE
WHAT?! Mr. IRS Agent wants to be a stand-up comic. Now that is funny!
MR. IRS AGENT
Yea, I know but this has been my dream. I even did some stand-up my freshman and sophomore year in college.
PETE
Excuse me for saying this but you are a stereotypical IRS agent – lack of any humor.
MR. IRS AGENT
Pete, I use to be really funny, outgoing, "fun to hang out with" kind of guy.
PETE
What happened?
MR. IRS AGENT
I changed my major from theater to accounting. At first, I noticed a slight change in my personality. But when I went to work for a Big 4 accounting firm, the "fun Kevin" began to get slowly sucked right out of me.
PETE
Your real name is Kevin?
MR. IRS AGENT
Yes it is!  When I moved to the IRS my fun meter immediately went to zero. So I decided the only way to get through this job was to have people call me Mr. IRS Agent.  But you can call me Kevin.
PETE
Okay, Kevin
MR. IRS AGENT
Did you always wanted to be an accountant?
PETE
Does anyone really WANT to be an accountant? Everyone I know in this profession kind of fell into it.
PETE
Should we get back to work?
MR. IRS AGENT
It can wait. I am going to allow the deduction anyhow! How did you fall into becoming an accountant.  Did you lose a bet?
PETE
HA HA!  That's funny BUT true.
MR. IRS AGENT
TRUE?
PETE
I was in love and my wife wanted us to move from Ft. Myers, Fl to Cleveland, OH so she could be closer to her parents. So, I told her I would but under one condition. That Case Western Reserve University accepts me into their Master's of Accountancy Program.
MR. IRS AGENT
And the rest is history!
PETE
I never thought I would get accepted.  I had taken the GMAT but my scores were under acceptance limit of 500.  They were so low that even if the person who transferred my score to an excel spreadsheet had dyslexia, they still would not reach 500.
MR. IRS AGENT
Now that is really funny!  Have you ever done stand-up?
PETE
Actually, I have. Similar to your story.  And yes, most of my funny has been sucked out by this accounting firm that I have been with for 10 years.  It actually cost me my marriage.
MR. IRS AGENT
This is getting really freaky.  I just signed my divorce papers just before I came to your office.  My attorney is on the floor above you.
PETE
Shut the front door. That firm also handled my divorce.  Is your attorney Nouno?
MR. IRS AGENT
OMG with a shocked emoji! Yes he is.
PETE
Who knew after all of these years that we share the love for stand-up comedy.  You know the difference between stand-up comedy and heroine?
MR. IRS AGENT
Of course I do.  You can quit heroine!
PETE
Kevin, I have got a crazy idea.
MR. IRS AGENT
I know what you are thinking.  We both quit our jobs today, move to LA and chase our dreams of being a stand-up comic.
PETE
Kevin, not quite.  My idea was to meet for drinks and dinner tonight and discuss quitting our jobs and becoming stand-up comics.
MR. IRS AGENT
Great idea!  Dinner at Delmonico's.  I really love their steaks!
(fade out)