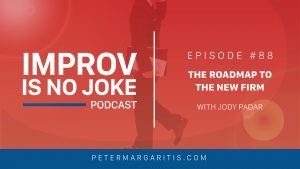 Jody Padar, AKA The Radical CPA, is a leader driven by a passion to foster real change in the accounting profession. She represents the next generation of accounting professionals, leading the vanguard for both digital CPAs and future-ready firms.
Jody returns to the show to discuss her new book, From Success to Significance: The Radical CPA Guide, which is a practice-proven roadmap to a new business model for CPA firms. If you're looking to change and you're not sure how to begin, this lays out the steps of creating change through practical strategies, tools, tips, insights, guest experts, and case studies.
So what does the New Firm look like?
•Technology is part of the core of the firm and is used to facilitate closer client relationships.
•The business model transforms: instead of doing every kind of work for every kind of customer, they've niched down.
•They productize everything offered, so they don't track or bill by time and, instead, offer everything they do at a fixed or value price.
There's no question: technology is having a significant impact on CPA firms. So how are our firms going to evolve and transform their business model to react to them, and to innovate with them?
"We can't change fast enough. We really have to transform our accounting firms so that we can be relevant. Change doesn't work anymore. We really need transformation."
And this transformation isn't just at the firm or technology level – it's a total mindset shift that everyone needs to buy into. Everyone in The New Firm needs to be adaptable, forward-thinking, and more than just an accountant.
The computers are going to do most of the accounting work, so we need to be better consultants and trusted business advisors.
We need to be Radical CPAs.