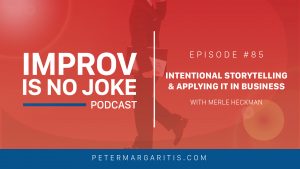 Today's guest, Merle Heckman, truly understands the power of storytelling – and why it is needed in all aspects of business today.
You see, Merle works with engineers, but he's not an engineer (he's the Manager of Organizational Development at Regal Beloit). And when engineers give presentations, they can be dense with jargon and hard to understand… not unlike when accountants give presentations.
Merle wanted to know how individuals within his organization could give better presentations so that the people listening could better retain and use the information being presented.
So, for his doctoral degree in Educational Leadership, he performed a study and wrote a dissertation titled, "Intentional Storytelling: A Potential Tool for Retention and Application in Business."
The research was fairly simple:
•There's a monthly divisional meeting at Regal Beloit. Every other month, Merle coached the speakers on incorporating storytelling into their presentations, and they did this for four months. So the first month was normal, second, coached, third normal, fourth coached.
•After every meeting, Merle sent two surveys: one two days after, and one two weeks after. The first survey asked questions related to retention, and the second survey asked if they had applied the information, or put it into practice.
And the results are astonishing:
•When the presenters incorporated storytelling techniques, participants put the information into practice 2.5x more often than when the presenters didn't.
•When comparing the first presentation (no storytelling) with the second presentation (with storytelling), participants retained twice as much knowledge when there were stories. When comparing the third presentation to the fourth presentation, participants retained 81% more knowledge.
"In the business context, the story teaches. We learn how to do things … The story resonates with us in such a way that it really reaches in and it really appeals to us." Stories give presenters the opportunity to put specialized knowledge into a context that everybody can understand.
And if the term story seems daunting, Merle sometimes uses the term "homespun illustration." The important thing is that we're not talking about making things up; We're talking about taking real-life events and real-life situations so that you can draw similarities (or create analogies) to the truth that you're trying to give, and reinforce it.
So what type of stories should a presenter tell?
1. "The best stories are the ones that come from our lives; The best stories are the ones that we have lived." There are so many stories out of our own personal lives that can affect, inspire, educate, guide, and teach people.
2. "The second best stories are the ones we have observed in other people around us. You don't have to say the person's name, but explain how they solved a problem. Those make great, relatable examples."
3. "The third best stories are the ones that we read about in books, or from history, that are true to life. These are often stories about how the Lincolns and Jobs of the worlds solved problems."
Don't make any mistake: Teaching with storytelling isn't easy – but it is incredibly effective.
In a world with so much information, in a world where everybody has a screen captivating their attention, the story will distinguish you as being different.
So put in the work to craft a good story – and, more importantly, practice so that you can effectively deliver that story; "Greatness is not in the performance. Greatness is in the preparation."
Click here to listen to the entire episode.
If you want to learn more about business storytelling, my book, Tell Me in Plain English: Taking the Numb Out of the Numbers, will be available in Spring 2018.  Please visit my website and explore the ways I can help you and your organization grow through the power of improvisation.