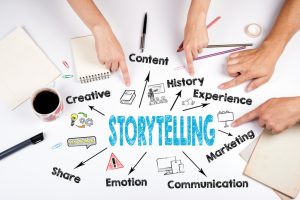 Storytelling in business can be a rather misunderstood process. If you think business storytelling is like telling fairy-tales, think again. I'm not talking about stories like Jack and the Beanstalk, Little Red Riding Hood, or Sleeping Beauty. Every day we are exposed to storytelling from major companies and their brands through commercials, ads, and online messages. Even product packaging tells a story. If you've ever watched a Super Bowl you have participated in one of the best examples of this kind of storytelling. Those commercials are designed to tell stories that connect on an emotional level with the viewer to drive buying habits. Telling stories in business is big business.
Do you remember the ad that ultimately changed the way Super Bowl commercials were designed and developed? It was Apple's 1984 commercial introducing the Macintosh computer, and it revolutionized the way companies advertise. It was so innovative that Advertising Age, the "bible" for advertising agencies, named this commercial number one on its list of the greatest 50 commercials of all time. Without using a competitor's name or even showing the new Macintosh, Apple told their story: IBM dominated the market, controlled its customers, and Apple was going to give them a run for their money. They tied it all back to George Orwell's book 1984 and created a visual message that was disturbing and memorable. At his keynote address to Apple in 1983, Steve Jobs told the same story. IBM wanted it all and had aimed its guns at the last obstacle to industry control: Apple. Will Big Blue (IBM) dominate the entire computer industry? The whole information age? Was Orwell right about 1984?
Take a journey through YouTube and search for the top Super Bowl commercials of all time. Each one of them has some emotional effect on the audience. A few of my favorites are Pepsi's commercial featuring Cindy Crawford, the Coke ad featuring Mean Joe Greene, the McDonald's commercial featuring the showdown between Larry Bird and Michael Jordan, and the annual adorable Budweiser puppy.
A researcher at John Hopkins by the name of Keith Quesenberry predicted that the Anheuser-Busch puppy love commercial would be the winner of the best commercial in 2014. He and his research partner Michael Colson studied brands that sold products featuring cute animals or sexy celebrities. In a Harvard Business Review article titled The Irresistible Power of Storytelling as a Strategic Business Tool, Quensenberry states "that ads that told a complete story using Freytag's Pyramid which is a storytelling structure that can be traced to ancient Greece."
As outlined in the HBR article, the components of Freytag's Pyramid are much like a five-act play which are:
Act 1 – Exposition: setting the scene by the introduction of characters and the setting.
Act 2 – Complication: conflict is introduced, and this conflict continues to build.
Act 3 – Climax: the height of the conflict and tension and this is where the story is at its most exciting.
Act 4 – Reversal: the main character begins to resolve the conflict.
Act 5 – Denouement: the conclusion of the story.
When stories follow this path, it creates a strong emotional response in our brains. Research shows that during tense moments in a story, our brain produces a stress hormone called cortisol, which allows us to focus. During cute moments of a story, our brain releases oxytocin, the chemical that elevates our connection and empathy. During happy moments our brains release dopamine, which makes us feel optimistic.
Storytelling and the chemicals that are released in our brains, also help to open our wallets and buy products from companies or give to charities, help us to change attitudes and beliefs, help us to empathize with others, and help us in the learning process by increasing retention and understanding.
The next time you prepare to engage with an audience (and the size of that audience can be from one person to a thousand people), craft your information into a compelling story. You will increase your success whether it's a donation to not-for-profit, or buy a product from a company, or land that prospective client. Take the data that you have and apply the theory behind Freytag's Pyramid to develop your compelling message through a story.