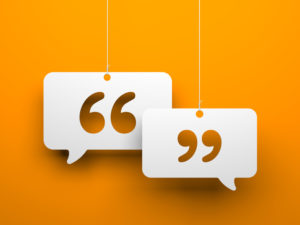 Watch any good screwball/slap-stick comedy and confusion is most likely at the heart of the plot.  Take the classic film, "What's Up Doc" – based on an even older comedic film, Bringing Up Baby – where a socially inept, yet intelligent, man encounters a strange woman who has devoted her life to confusing and embarrassing him and everyone around them.  After a number of ridiculous events, the entire cast of characters ends up in front of a judge where they try to explain the mess of events.  Watch the hilarious scene here.
Or take this absurd exchange from the movie, Airplane:
Flight Control: Flight 209 you're clear for takeoff.
Clarence Oveur: Roger.
Roger Murdock: Huh?
FC: LA departure frequency 123.9.
Clarence Oveur: Roger.
Roger Murdock: Huh?
Victor Basta: Request vector, over.
Clarence Oveur: What?
FC: Flight 209 clear for vector 324.
Roger Murdock: We have clearance, Clarence.
Clarence Oveur: Roger, Roger, what's our vector, victor?
FC: Now we're in radio clearance, over.
Clarence Oveur: That's Clarence Oveur, over.
Victor Basta: Roger.
Roger Murdock: Huh?
FC: Roger, over.
Clarence Oveur: What?
Roger Murdock: Huh?
Victor Basta: Who?
All of these films portray some of the greatest comedic sequences based around confusion.  And while it's definitely exaggerated, this overwhelming feeling of frustration felt by the characters is not an uncommon feeling in the workplace.
There's an activity I engage my audiences in that demonstrates this concept. I start by asking everyone in my audience to pull out a blank sheet of paper.  I tell them that they are to listen carefully and follow my instructions to the "T."  However, they cannot ask any questions. "Fold the paper in half," I say, and I give them a moment to comply. Then: "Tear off the bottom right corner. Fold the paper in half again. Tear off the bottom right corner. Fold it in half one more time, and this time chew off the bottom left corner."
At that point, I ask everyone to unfold their sheet of paper, and I walk around the room examining them. Whether I have a crowd of 20 or 100, I rarely find any two alike. Like real snowflakes, each is unique.
"Help me understand something," I'll ask. "I gave you instructions for each step. So why isn't every snowflake exactly the same?"
They couldn't possibly be the same, my directions were general and not specific enough – I didn't explain which direction to fold or how much to tear off or how big a bite to chew, so those "directions" were up for interpretation.
This is such a common experience in the workplace.  Perhaps you've had employees that have done something that bore little resemblance to what you expected. What they heard wasn't what you had requested—and that might well have been because you didn't take the extra minute or two to give them detailed instructions and make sure they completely understood. You didn't explain yourself, and you didn't let them question you.
Confusion is often the result of a lack of clear direction.  This can leave everyone involved feeling frustrated or upset – with the employees not understanding what they did wrong. Stress levels increase. You wonder whether the employees have a clue, and the employees see you as ineffective. Office morale plummets.
That's the root of a lot of workplace tension – it happens all the time. Poor communication leads to increased stress. It comes from not understanding what someone is saying, from not knowing what they want, and from not giving sufficient directions.
The solution?  Better communication.  How?
Make sure everyone is using the same terminology and understands what those terms really mean.  Cut out buzzwords that don't clearly state what you really want to say.
Have an open rapport with your employees where people are comfortable asking questions and making comments about projects.
Do your best to practice the listening skills that I've touched on before here.  Doing so will allow you to not only respond to your team's concerns and questions, but you'll be able to listen by seeing through their body language whether they're confident or confused.
Being an effective professional takes effective communication skills.  Learn more tips by visiting www.improvisnojoke.com where you can download a free chapter of my book, Improv is No Joke.