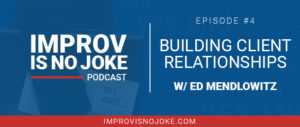 Ed Mendlowitz is a long-time CPA and a partner of prestigious Withum Smith+Brown. He's also a member of many CPA societies and has taught financial and accounting courses for 11 years. He's a firm believer in CPE and uses his CPE training opportunities to network with other CPA's from around the world. He's full of wisdom and insights and he shares many great nuggets with us today. If you would like to listen to the entire episode, you can click here, or you can download the episode on iTunes, Stitcher or Google Play.
Ed considers himself the last of the "expert generalists." He started his firm a long time ago and the only way he could grow was to never say "no" and to do anything that came his way. He grew his first practice from two people to fifty before finally merging with WSB years ago.
WSB does something that many other accounting firms don't do; they create unique, fun and fresh videos that they use to promote their brand on the Withum1 YouTube page. The videos started as a way to chronicle their yearly 'state of the firm' meetings and to excite the staff. This has also had an added benefit of being a recruiting tool for new talent just emerging from their accounting education.
WSB does a lot to wine and dine great prospective employees, just like how many companies wine and dine prospective clients. Where many companies fall short though, is they start by doing anything they can to land the client, then once they're on board, they eventually forget about these existing clients.
"If they paid attention to existing clients with the same effort and interest that they do to get a new client, they'd get a lot more business from existing clients and the firm would grow and their clients would do all their recommending and referrals for them."
Through his love of CPE, Ed attains over 100 credits per year. Most of this is through going to LIVE CPE events. He prefers these over online CPE because of the human interactions that come from these events. He meets about 40-50 new people at each event, often times inviting the lone person to join him for lunch or dinner. His networking skills have earned him referrals from all over the world.
Personal connections have always been a part of Ed's business, but many other accounting firms just don't do a good job with it. They often think that doing the client's taxes and meeting commitments is developing a relationship. It's not. It's when you reach out with a personal touch that really matters. When you're in the neighborhood, stop by and say "hi." This creates availability and clients love when their CPA is available.
Ed recommends returning phone calls promptly, and if there's a problem you need to let them know ASAP. You should precipitate phone calls with questions and suggestions for the client. These build your client relationship and will often lead to referrals. "The referrals you get from existing clients are the way you can tell if you're doing a good job or not."
Creating a comfortable environment for your employees is another relational aspect to accounting that every company needs to work on. Within committees or groups, create an atmosphere where people can spitball ideas that can turn into something great. "Bad ideas lead to good ideas, no ideas lead to nothing." Innovation and crazy ideas have led to many successes in every aspect of life, so don't miss out on this opportunity within your own company.
Ed truly delivered with some great nuggets of knowledge and insights into networking within the CPA community. You'll hear from Ed again in the near future on the podcast, so stay tuned.