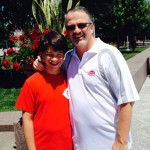 Like many teenagers my son Stephen, who turned 14 last month, didn't have a real grasp on what I do for a living. And like many fathers, I wanted to spend more time with him this summer. Luckily I had the opportunity to combine both things: I took Stephen with me to Washington DC so he could see me in action at the National Association of Black Accountants Annual Convention and we could spend time away together.
I wanted to make our trip an adventure that he would remember, so we flew from Columbus, OH to Baltimore, MD. We got on an Amtrak train to DC and caught a cab to our hotel. It was the Margaritis version of Planes, Trains & Automobiles!
My three presentations at the conference included two days of 8am sessions. Trying to wake a 14 year old at 6:30am is like sticking your head in a lion's mouth while wearing a hamburger bandanna. I took the experienced parent way out and let Stephen sleep in. My third session was a professional issues update that was delivered the last day of the conference in the afternoon. After Stephen helped me setup for the presentation he went to the back of the room to watch, which he did with some interest. During the break he asked for money to get something more to eat (a 14 year old is always hungry…always!) I gave him $20 and off he went in search of food.
Shortly after I began the second half of my presentation, Stephen walked into the room with bottle of water. The water was for me – what a kid! Then he did something really amazing: he put the change from the $20 on the table. The room was stunned…a teenager bought something for dad AND gave back the change. I couldn't let this magic moment pass so I said "Let's give Stephen a big round of applause." As my son walked away I could see his big smile, and that made me smile, too.
My work is important to me, and to do it I must travel extensively. I think sharing those days with Stephen created memories that both of us will hold on to and build upon.
Relationships, all relationships, can only get stronger when we invest the time and effort to develop meaningful conversations and experiences.
Moral of the story: share with your kids, your family and your friends. Every day can be the best day ever.