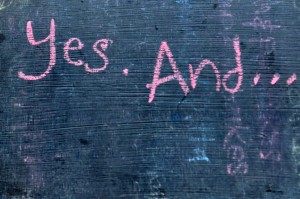 Accountants and other business professionals are particularly great at linear thinking. Surprises are rarely welcome and creativity is often a foreign word. However, untapped potential can be harnessed when communication and problem solving skills combine with technical prowess. Many people think improvisation is just a fun expression to make people laugh; useless in the white collar profession. I have discovered the opposite to be true. There are many ways to incorporate improvisational strategies in your daily life and drastically improve your communication skills.
The Group Mind Concept
If you have ever watched an improvisation skit, you get the feeling that the actors are not holding to their own agenda. Everyone seems to bring ideas to the scene, creating a group mindset. And it works! Granted, the objective is to find the humor and provide entertainment for an onstage improv performance, but when the principles behind the scenes are practiced in the business setting, a higher level of communication takes the place of business as usual.
Second Nature
It is possible to deliver only the high level of technical skills needed to perform your duties, but is it enough these days? When the principles of improv (support, trust, respect, focus, listen, and adapt) are added to these technical skills, your networking and interpersonal communication will attract others to you. This combination generates a buzz of productivity that will in turn motivate you and your teammates to deliver more great work.
Whatever your professional goals may be, an understanding and application of the basic principles of improv can help get you reach them. Improv skills will set you apart from all the other guys (and gals) because these skills have practical uses in relationships with clients, colleagues, and team members.
Ready to make innovative changes in your career or workplace? Download a free chapter to Pete Margaritis' new book, Improv is No Joke, or he can come to you as your next keynote speaker!