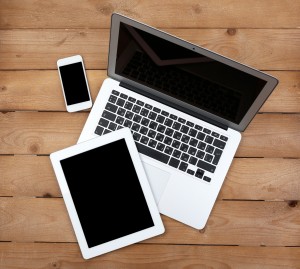 Whether you work from the same office every day, travel occasionally or, like me, work remotely much of the time, staying connected, informed and efficient is important.  Need to share large files or maintain internet access or actually see the person you are meeting with even when they are across the country? No problem, there's an app for that!
Here are a few tools that work really well for me:
Dropbox –This file sharing tool is easy to use. Just open an account and load your files. Then click the share button and add the recipient's email. They will receive an email from Dropbox with a link to your shared folder. Recipients see only those files and folders you have selected to share with them.
Evernote – This one takes some practice but only because there is so much offered. Organize files, maintain journals, store photos and graphics – it's all there. Evernote syncs with all your devices so add something on your phone and your laptop has it too.
Skitch – A partner with Evernote, Skitch is a great tool for saving web pages and documents. Not the links (you can do that with just about every app) but you can open the doc or page, do a Screen Snap, add comments and save to Evernote or email it.
TripIt – For all of us frequent flyers, keeping track of flight itineraries can be a bit of a hassle. Send your confirmation emails to TripIt and the app organizes it all. You can receive flight information and travel alerts through the app, too.  No more hunting for emails! If you travel exclusively with one carrier, get their app – it will do the same thing plus you can check in, get seats and get your boarding pass.
Skype – I usually use FaceTime when I want a one-on-one face-to-face conversation, like with my family, but Skype is great for group meetings. Like other apps, they let you have group video calls and screen sharing, which can be pretty helpful.
What app helps you stay  productive?